SQUARING AND CUTTING OF LEATHER
The leather is controlled meticulously and every single defect is identified. After this careful control, the leather is squared and cut in stripes.
Leather stripes are evened and skived.
The glue is spread on stripes either manually or mechanically.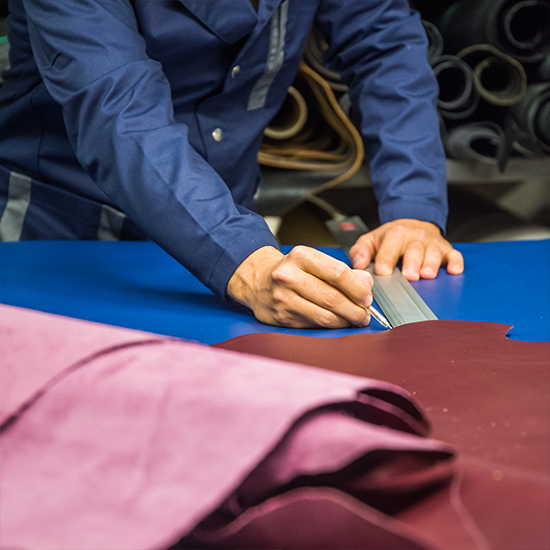 Glued stripes are coupled together and calendered.
In order to have linear and rounded edges, coupled stripes are trimmed using different types of cutting.
During this phase, the end and holes are punched on every single belt and each one is put on size. A buttonhole may be made in order to sew classic buckles or a linear cut to apply a reversible buckle.
The edges of the belts are milled in order to make them more rounded and to prepare them for dyeing.
The end of the belt and the edges are dyed several times with an edge-inking machine.  Holes and buttonholes are dyed as well.
The edges are polished in order to make them more rounded, uniform and well-finished.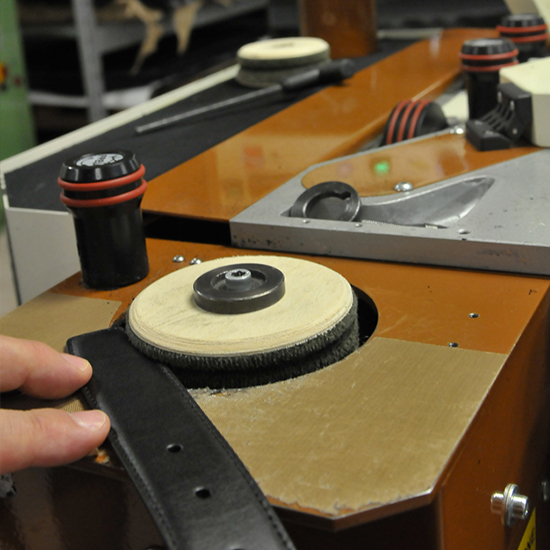 Belts can be sewed using several types of yarns.
With a semi-automatic machine, the belts can be personalized by printing the logo, size, 'Genuine Leather', 'Made in Italy' by means of a hot stamp or coloured ribbons.
In this phase buckles are assembled with belts. They can be sewed on the belts or assembled with the base of the buckle themselves.
QUALITY CONTROL AND PACKAGING
In the end, there is a final quality control and the belt is completed with a personalized label and than packaged for the shipping.
REQUEST A QUOTE FOR LEATHER BELTS PRODUCTION
We produce leather belts from high quality materials for personalized orders of wholesalers, brands, sales organizations and shops.
request a quote